Glasses case manufacturing exhibitions we attend
Rongyu Packing regularly participates in glasses case exhibitions and fairs around the world. Attending events like MIDO, the HK Optical fair or the Hess Fair are great opportunities for us to meet many of our existing clients, to introduce and discuss our new eyewear cases to interested brands and clients and to stay up to date on the latest spectacle case industry trends.
Rongyu Packing at the 2018 MIDO Fair
In 2018, Rongyu Packing has attended the MIDO fair in Milan. MIDO is the largest international show dedicated to the global eyewear sector, with more than 1.200 worldwide exhibitors. With over 80 of its glasses cases being displayed, Rongyu Packing gave all international attendees an extensive overview of the broad variety of spectacle cases manufactured. Some of the most frequently discussed cases at the booth had been the high quality Hard Shell glasses cases that Rongyu Packing produces in multiple shapes for glasses of any size. 
Hong Kong Optical Fair 2018: The worlds glasses case manufacturers meet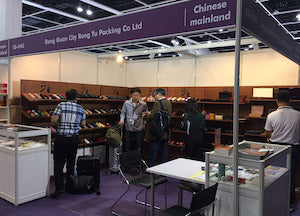 The Hong Kong Optical Fair stands out as one of the biggest and yearly held trade shows of the spectacle case industry. In 2018, Rongyu Packing showcased its product portfolio of wholesale glasses cases. Located in Hong Kong, the Optical Fair is a close-by destination for Rongyu Packing, who manufactures from Dongguan in Southern China. Together with our international sales team, we presented some of our newest case innovations to the more than 10,000 buyers that attended the 2018 Optical Fair. In the many conversations we had with interested buyers from across the world, it became clear that most buyers were looking for customized solutions for their eyewear cases, like EVA glasses cases manufactured from waterproof materials.