Hard case, foldable or EVA case: Producing the right glasses case
由 在 发布
For many glasses manufacturers, one of the toughest decisions to make is to choose between the hundreds of different spectacle cases being offered by manufacturers today. While other factors such as choosing the right partner or deciding between different sizes and colors are also important, the key question often evolves around the type of glasses case to choose. 
As a leading glasses cases manufacturer in China, Rongyu Packing has combined it's knowledge & insights from hundreds of conversations with clients and consumers to help eyewear manufacturers make a thorough decision between the different types offered. If you need further insights & ideas, we're always happy to get in touch with you and discuss your solution in details!
Let's get right to it: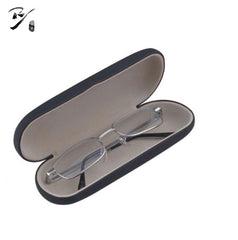 Hard cases are most probably the most common glasses case type in the world. Often produced with a steel core and with oval edges, hard cases can be seen as the "original" glasses case. 
Advantages of Hard Cases
Hard Cases offer best protection
With its solid structure made of steel, hard cases provide the best protection of all types of glasses cases. High pressures applied to the case from any direction usually does not result in any harm for the glasses. 
Hard Cases are available in almost all sizes 
Hard cases can cover the whole range of spectacle varieties: From the smallest reading glasses up to the biggest sunglasses. For instance, the RY-2007 is a typical, high protective hard shell spectacle case available for reading glasses, whereas RY-2056 is designed to host big sunglasses.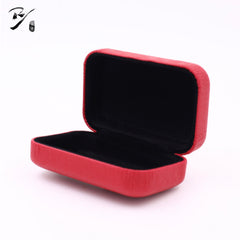 Hard Cases offer a variety of outer materials & design options
One of the big benefits of hard shell cases is the variety of materials & designs that can be applied. Hard Shell cases can be finished using either fabric or PU leather on the outside, making them highly customizable in their final look & feel. As an additional plus point, the flat top of hard cases makes it the perfect box to experiment with big design elements, such as pictures, graphical elements or big brand logos. Our sample of RY-2002 uses a classic British check pattern across all of it's surface.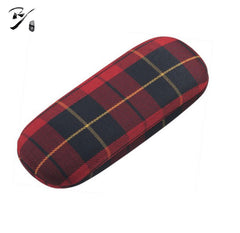 Limitations of Hard Cases
Hard Cases have provide limited handiness
Hard Cases biggest advantage leads also to it's main limitation: The fixed structure & steel core of these cases reduce it's handiness significantly. Whereas other types of glasses cases often are thinner; able to be squeezed together or even foldable, hard shell cases don't offer these functions.
Hard cases provide limited shape options
Although hard cases can be customized, there are limitations to the customization process. To keep the cases stable & to provide a better haptic experience, hard shell boxes often rely on round edges. Few exceptions exist, such as with box RY-2016, which follow a more rectangle shaped design idea.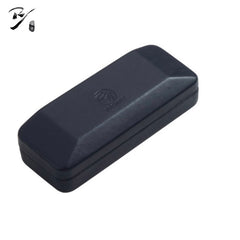 The opening mechanics are often also restricted by splitting the case open half way in the middle. Therefore, design adjustments are mainly made around the oval shape of the case, sometimes adding convex or concave design shapes to the box, as for example applied in RY-2003 and RY-2068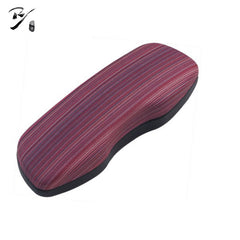 The Up & Coming One: Foldable Case
One of the more recent inventions in the industry are foldable cases. Through smart folding techniques on both sides, these cases can be collapsed to a height of only about 1cm, when no spectacle case is stored within. While the core of foldable cases can be made of steel or cardboard, the outer material usually contains of textile or PU leather due to the necessary foldable technique.
Advantages of Foldable Cases
Foldable cases are space-saving
Definitely the most obvious factor and core idea behind each foldable case is its ability to save space when not needed. Considering that especially sunglasses are not only carried most of the day on the head, but are also often used when traveling, saving some precious space in the backpack or purses is definitely appreciated. Once folded, these cases measure the size of only one of its three sides and are usually about 1cm in height. 
Foldable cases are lightweight 
Another major reason why foldable cases are becoming more popular lies within their weight: With no heavy materials like hinge needed, foldable cases are super lightweight. This makes them a perfect travel companion. RY 1013 belongs to some of the most lightweight cases on the market, weighting below 100 grams. 
Foldable cases offer unique design opportunities
With its triangular shapes, foldable cases provide big, rectangular shaped surfaces to design bold patterns - a welcomed change for every designer that needs to create new design patterns.  With the overlapping front covers and the triangular shaped sides, foldable cases offer endless design opportunities. 
Limitations
Foldable cases have limitations on outer materials 
As foldable cases need to be flexible when collapsing, the outer material has to be stretchable as well. This is why on most foldable cases, textile or PU leather is applied as outer material. This, however, doesn't limit the design choices at all: Textile for example offers hundreds of opportunities, including softly woven textiles, strong, bold colors and almost any kind of pattern you can imagine.   
Nose pads can not be applied on foldable cases
While other eyewear cases often include a nose pad to add stability to the glasses inside the box; foldable cases usually do not come with nose pads included. Although this lets glasses inside the box slide around slightly more, foldable cases still provide good protection on the inside; mainly coming from its triangular shape that prohibits glasses from bumping around too much within the case.  
The Practical One: EVA Case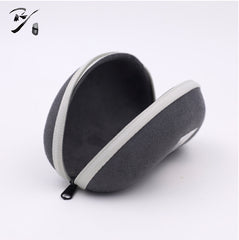 EVA cases are made of Ethylene-vinyl acetate, a copolymer that has been developed in the 1960s and has since then proven itself as one of the most elastic and yet toughest materials available. 
Advantages of EVA cases
EVA cases are resistant
Thanks to it's foam-like material, EVA cases belong to the most resistant eyewear cases on the market. EVA cases absorb shocks, withstand dust such as sand and can even be water resistance with certain materials used on the outside.
EVA cases often come with zip fastening. As a result, EVA cases are very popular for any companies selling outdoor and travel accessories. As an example, RY-4014 comes with an additional carabiner integrated into the case, so that it can be easily attached to a backpack on the go.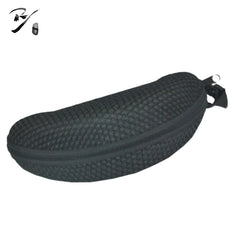 EVA cases can have almost any shape
Sometimes cases need to really stand out. In these instances, using a EVA case might be the best option. Due to it's special production technique, EVA cases can have almost any shape: Squared, like the RY-4039, triangular like the beautiful RY-4047, or even shaped like a hippo: The RY-4018 is definitely a unique case.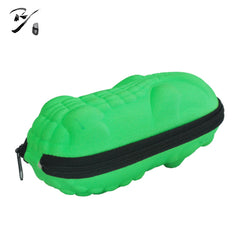 EVA cases can have different textures
Although made from the same material, EVA cases can have very different textures on the outside; from rough, solid materials to rather soft textures: Compare RY-4042 with RY-4012 and you will even see from the picture that the materials have major differences.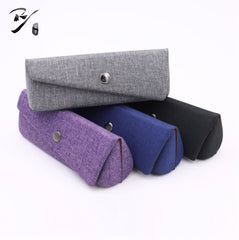 ---